THE FUTURE OF EXHILARATION.
Welcome to the Stable: All-Electric Mustang Mach-E
AN ELECTRIC NEW ADDITION TO THE MUSTANG FAMILY
Built from all the passion of its iconic heritage, Mustang Mach-E is a new shape of freedom. Get ready for 0-60 thrills with zero emissions. 
Available Late 2020
SEAMLESS TECHNOLOGY
The Mustang Mach-E features connected tech designed to provide a driving experience that's centered around you.
Drive Experiences
Your Mustang Mach-E will match your mood. You can select your Drive Experience to fit the moment-and the interior sound, lighting, and even the responsiveness will adjust to your style - whether it's Unbridled, Engage or, Whisper.
Introducing SYNC® 4A
This unique, human-centered design, displayed on a 15.5-inch touchscreen, combines cloud-based connectivity, over-the-air update capabilities, voice recognition and so much more to bring you a seamless and personalized driving experience.
Over-The-Air Updates
As technology evolves, your Mustang Mach-E evolves with it. Secure over-the-air updates offer enhancements throughout your SUV, from the SYNC® 4A communications system to upgrades that help improve your vehicle's quality, capability and convenience over time. Many of these updates will be virtually invisible, enabled by an innovative cloud-connected platform.
POWER UP AT HOME
Your Mustang Mach-E comes standard with the Ford Mobile Charger that works with both 120V and 240V outlets, and if you're looking for a faster home charging solution, you have options. The Ford Connected Charge Station will be able to add up to an average 30 miles of range per charging hour, which gives you a full charge overnight. (based on extended battery RWD)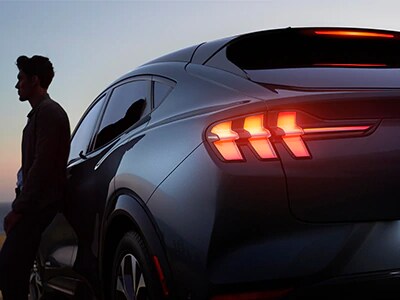 E-Latch System
Its streamlined appearance can be deceiving, until you approach. Then, when Mach-E recognizes you, it will present an illuminated button-then one simple touch opens the door. It knows when you leave, too, and locks itself.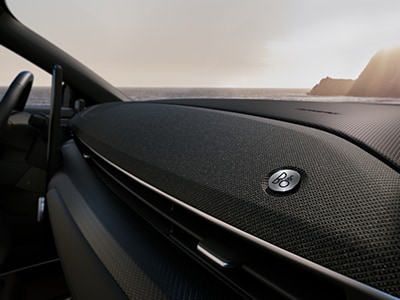 B&O Sound System by Bang & Olufsen
Enjoy a personal sound system as legendary as the vehicle itself. Prepare to be moved by the powerful sonic experience of the 10-speaker B&O Sound System, including a highly efficient subwoofer that delivers heart-pounding bass with reduced weight and saved space. Taking inspiration from Bang & Olufsen home speakers, the award-winning integration of a unique fabric design brings depth and beauty to the dynamic lines of the Mustang Mach-E interior.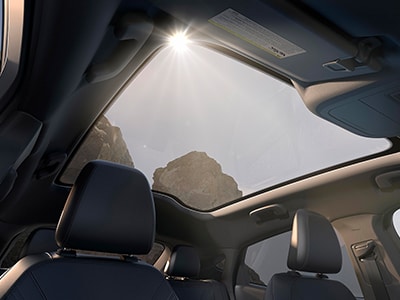 Glass Roof
The benefits of this available Panoramic Fixed Glass roof go beyond its expansive view. Special coating is designed to help the interior stay cooler in the summer and warmer in the winter with a Low-E on the roof and Infra-red Reflective coating on the windshield.
CONVENIENCE ON THE ROAD
Hit the road worry-free with simple and easy access to the FordPass Charging Network - the largest public charging network in North America offered by automotive manufacturers. You'll receive two years of complimentary access to the FordPass™ Charging Network for easy pay-as-you-go charging at over 13,500 locations, including DC fast-charging stations.